About web "SVODIDLA OMO" (Crash barriers OMO)
The "Stavby OMO" company was established in 2009 to draw on Jaroslav Číhal's knowledge and practical experience in the sector of construction of road barriers and repair of bridges where he had worked as an independent contractor for more than 30 years. To capitalize on in house expertise in road restraint systems, the company started to develop proprietary models of crash barriers in 2005 using its own "Padostroj" (type of downfall tester) to verify the procedures.
Currently, the company offers 3 types of crash barriers for bridges and roads with a concrete shoulder, retaining walls, etc. where the barriers can be installed.

Main advantages OMO crash barriers:
use of rolled sections, which exhibits higher longitudinal stiffness than bent (pressed) sections
use of 4 mm sheet (strength parameters, resistance to exposure, service life and thus also environmental aspects)
post spacing at 2 m (other manufacturers often use 1,25 m or 1,33 m spacing)
a hole in the base plate for injecting grout into the space between the base plate and the shoulder surface
only two anchor points per post
three approved anchoring types (anchoring fixture, steel expansion anchors OMO, cohesive bonded anchor)
height of the bridge road barrier only 0.8 m for H2 containment level !
guardrail crash barrier height only 1.3 meters for H3 containment level
smaller working width ideal for noise walls, columns, median barriers and other installations where space is at a premium
about 60% of OMO restraint system components in different types of barriers are identical
fully compatible with safety barriers using NH4 or AM beam (strip)
connecting elements to barriers of all domestic and foreign crash barrier manufacturers
simple installation (assembly, dismantling, replacement, etc.)
surface treatment and special features (within standards) on request
... and excellent technical parameters :-) (see overviews of individual types)
MS4/H2 crash barriers
Single-faced steel barrier for H2 and lower containment levels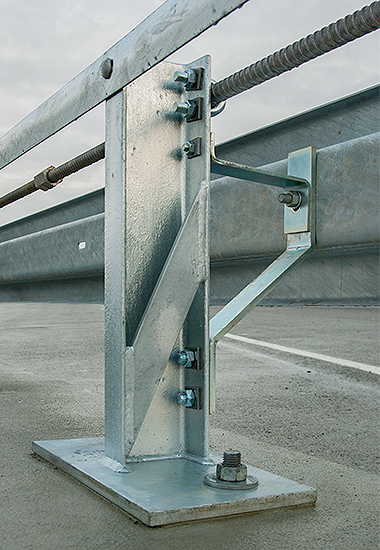 Key barrier parameters ascertained by a barrier certification test:
| | | | | | |
| --- | --- | --- | --- | --- | --- |
| Containment level | Dynamic deflection | Acceleration Severity Index | Working width | Designation of working width | Tilting vehicles |
|   | [m] | ASI | [m] | W | [m] |
| H2 | 0,6 | 1,258 | 0,7 | 2 | 2,2 (VI7) |
ZMS4/H2 railing crash barriers
Single-faced steel barrier for H2 and lower containment levels with different types of infill on request (ribs etc.)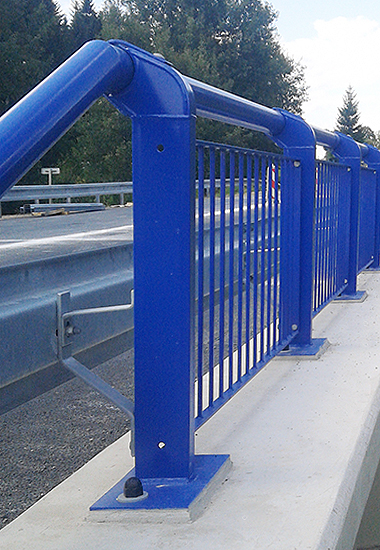 Key barrier parameters ascertained by a barrier certification test:
| | | | | | |
| --- | --- | --- | --- | --- | --- |
| Containment level | Dynamic deflection | Acceleration Severity Index | Working width | Designation of working width | Tilting vehicles |
|   | [m] | ASI | [m] | W | [m] |
| H2 | 0,45 | 1,1 | 0,8 | 2 | 2,2 (VI7) |
ZMS4/H3 railing crash barriers
Single-faced steel barrier for H3 and lower containment levels with different types of infill on request (ribs etc.)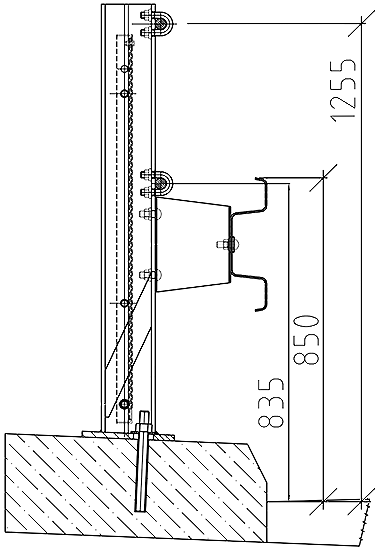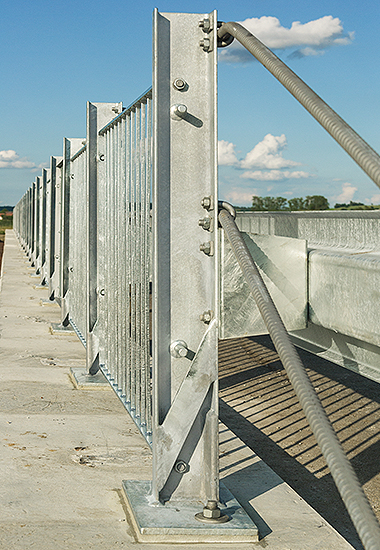 Key barrier parameters ascertained by a barrier certification test:
| | | | | | |
| --- | --- | --- | --- | --- | --- |
| Containment level | Dynamic deflection | Acceleration Severity Index | Working width | Designation of working width | Tilting vehicles |
|   | [m] | ASI | [m] | W | [m] |
| H3 | 0,8 | 0,8 | 1,3 | 4 | 2 (VI6) |